It is no secret most people want straight teeth. However, the most widely known way of achieving this was by getting braces, and braces are well known to be uncomfortable, an eye-sore, and confidence draining. Thankfully, Invisalign, a teeth-straightening system first introduced in 1997, has made huge strides helping patients achieve their perfect smile.
But is Invisalign right for you? The difference it can make for your smile is tremendous, but there are factors to consider before knowing if Invisalign is a good fit for you and your teeth.
Say "Goodbye" to Braces
The Process
The number one thing patients and doctors compare Invisalign to are braces. Invisalign and braces are designed to achieve the same thing: straighter teeth. However, the process of how Invisalign does this is a little different.
Braces use set wires to "pull" your teeth into alignment, while Invisalign uses moulds of your teeth computer-generated by your dentist to "push" teeth into the proper position. The moulds are made from an FDA-approved plastic, containing no BPA, BPS, latex, or gluten.
Braces and Invisalign also have a relatively similar treatment time as well of about 18 months to 2 years, depending on the current placement of your teeth.
The Look
Invisalign teeth straighteners are clear and practically unnoticeable, making them great for adults and teenagers who are worried about what braces can do to their outward appearance. No need to worry about the big meeting or your graduation pictures! Just get up there and smile.
Comfort
Like braces, there is some adjusting to be made before you get used to wearing your Invisalign. The initial fitting can feel tight, but before you know it, you will adjust to the feeling. Another massive benefit with Invisalign is there are no metal brackets on your teeth that can scrape and cut up against your gums, lips, and teeth.
What it Can Treat
For the most part, Invisalign teeth straighteners can fix just about any problem braces can fix. Depending on what your doctor recommends, Invisalign can help treat overbites, underbites, crowded teeth, gaps, and crossbites.
What to Look Out For
Cost
For the most part, Invisalign is more expensive when compared to conventional braces. Depending on your current insurance plan, Invisalign could be covered or at least partially covered. Another factor playing into the cost is the state your teeth are in. The more work that needs to be done, the more you can expect to pay.
If you are planning on paying out of pocket, you can expect to run a bill between $3,500 and $8,000.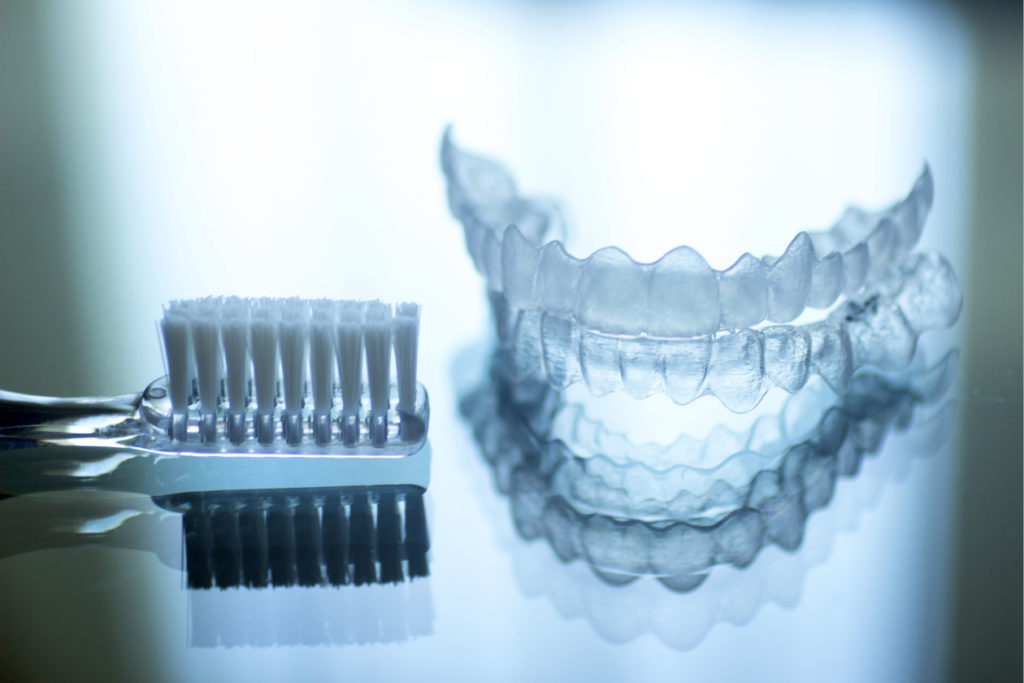 Oral Health
It is recommended to keep your Invisalign in your mouth for up to 22 hours a day, and only to be removed when eating or brushing. This means there is a possibility of food particles being built up inside your Invisalign that can cause plaque build-up, which can lead to tooth decay and gum disease.
Be sure to brush your teeth and your Invisalign after every meal to ensure protection against these diseases.
Invisalign Is Not A Complete Replacement For Braces
Invisalign can, for the most part, treat the same range of oral health problems that braces can treat. However, they can't address everything. For more extreme cases of teeth misalignment, braces are sometimes the only option for treatment. Braces can appropriately treat overly twisted teeth Invisalign might not be able to through the use of moulds.
Find Out if Invisalign is Right For You!
Every mouth is different, and every mouth needs a different treatment. By booking an appointment, you can know for sure what our Invisalign system can do for your teeth and get the best treatment possible!