If you've seen your fair share of sporting events, you may have seen an avulsed tooth before, a common dental emergency. An avulsed tooth is a time-sensitive emergency, so getting to your dentist as soon as possible is important to prevent any permanent damage.
If you experience an avulsed tooth, what is it, and what should you do to protect your tooth until you get to your dentist? Continue reading to learn more about avulsed teeth, what they are, and what to do if you experience one.
What is an Avulsed Tooth?
In short, an avulsed tooth is a tooth completely dislodged (knocked out) from its socket. This typically happens from sports injuries, fights, and other trauma to the face. When the tooth dislodges, damage occurs to the periodontal ligament and the socket itself.
Successfully treating a knocked-out tooth relies on the tooth's roots surviving. The cells in the roots are called periodontal ligament cells, and if they die, replanting an avulsed tooth is unlikely. The best chance for these cells to survive is to immediately replant the tooth into its socket or keep the dislodged tooth in a storage container until your dentist can treat you.
What Causes an Avulsed Tooth?
External trauma to the face is the usual cause of tooth avulsion. While children age 7 to 14 more frequently experience tooth avulsion, adult injuries are more common than you think. You're more likely to experience a tooth avulsion within a short distance of your home, school, or sports venue.
In a study of 1,298 emergency room visits, 66% of dental-related injuries were avulsed teeth. The most common cause of tooth avulsion is taking a fall, with cycling accidents and full-contact sports incidents following.
If you experience an avulsed tooth, the most important thing to do is quickly visit your dentist for emergency treatment. Time is of the essence, and if not treated fast enough, you may lose your tooth for good. If you lose a tooth, what should you do?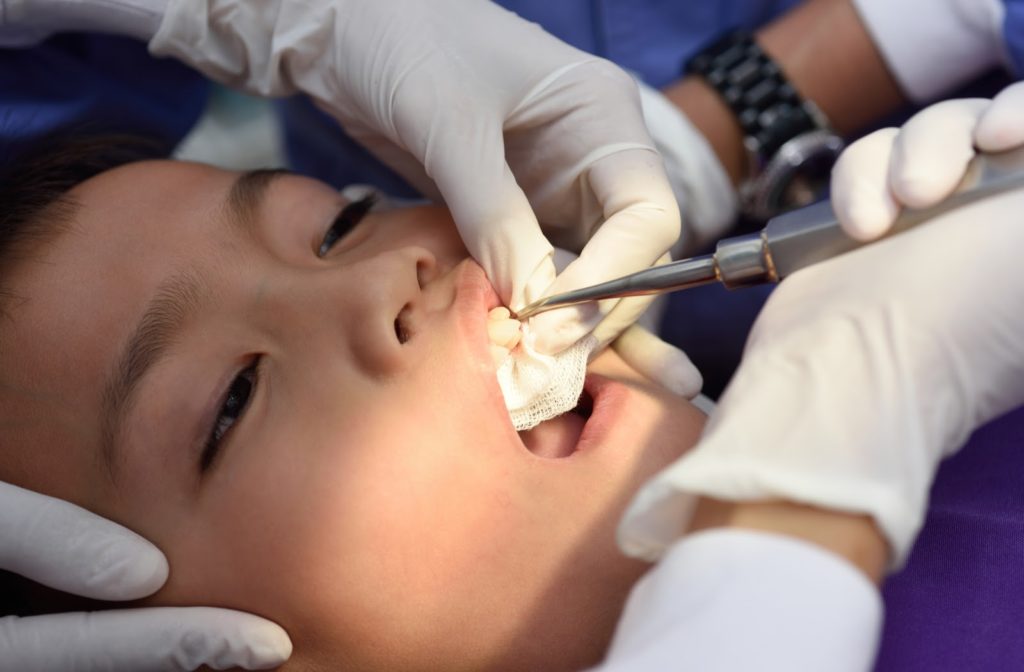 What to Do if You Have an Avulsed Tooth
A knocked-out tooth can be reimplanted if taken to your dentist right away. There's typically a short timeframe to have an avulsed tooth fixed, so visiting your dentist as quickly as possible is critical. If you lose a tooth, follow these steps, and you have a good chance of reimplanting it:
Handle your tooth by the top or crown only; never touch the roots of the tooth.
Inspect the crown & root for any possible fractures or missing pieces.
Don't rub or scrape your tooth to remove any debris. This can damage the root surface of the tooth.
If there is any foreign material (like dirt), briefly rinse your tooth (no more than 10 seconds) in a bowl of lukewarm tap water to remove debris. Don't hold your tooth under running water; too much water can kill the cells on the root surface.
Try to place your tooth back in its socket. If it cannot fit back into place, bite down slowly & gently on some gauze or a moist piece of paper towel to keep the tooth in place. Hold your tooth in this position until you see your dentist.
If you cannot reinsert the tooth at all, place it in cold milk or your saliva.
Get to your dentist or an emergency room as soon as possible to have your missing tooth fixed.
If treatable, your dentist will perform surgery to reattach your tooth to the bone. Expect to have further visits in the following months. Your dentist will want to monitor your progress to see if there is an infection present and determine if your tooth is healing well.
A tooth avulsion can happen at any time, so never participate in high-risk activities without wearing the proper safety equipment. Proper prevention can lower the risk of tooth avulsion and keep your teeth safe.
Tooth Avulsion Prevention
Falls, cycling accidents, and full-contact sports frequently cause tooth avulsions. You can't predict when you may fall over, but wearing protective gear when cycling or playing sports can lower the risk of a knocked-out tooth. Wear a mouthguard if you're participating in:
Skating
Hockey
Football
Lacrosse
Rugby
Martial arts
Another contact sport
Dental trauma is significantly less likely when wearing a mouthguard. If you lose your tooth in an accident, follow the correct steps and see your dentist as soon as possible.
Keep Your Teeth Protected
You never know when an accident may happen to you or a loved one. If you're cycling or playing sports, take precautions and consider investing in a high-quality mouthguard. If you have a tooth knocked out, knowing what to do can save your tooth from being permanently lost. Follow the correct steps before contacting your dentist; they can help you save your smile.