Good Hygiene Habits Start at Home
Kids are curious, wiggly, wily, and opinionated at every age. Sometimes, they'll turn their noses up at the things we want them to try, like toothbrushing!
Any dentist will tell you how vital it is to get our little ones started on healthy hygiene habits; after all, baby teeth are essential for proper oral formation. Poor oral hygiene can result in problems like:
Tooth pain
Tooth decay
Difficulties eating
Difficulties speaking
Low self-esteem
If you've ever been trapped in a bathroom with a few screaming pterodactyls, armed with only a tube of toothpaste, you may have strong feelings about teaching children the perks of oral hygiene.
It's easy to tell someone how important it is for kids to learn about toothbrushing, but no one really explains how! Markham Dental Smiles wants to make your journey towards overall oral health to be pleasant, so read on for 5 tips on how to brighten your family's smiles.
5 Ways To Teach Kids How To Brush Their Teeth
Tip #1: Start Early
Having a routine starting from the early stages will help cement hygiene habits later on in life. You can do a little cleaning, and allow your baby to get used to this new sensation by wiping their gums with a wet washcloth.
Remember to be a great example and let your kids see you brushing your teeth. As your children get a little older, you can start to introduce age-appropriate cleaning tools and toothbrushes into the home. Twice daily toothbrushing can slowly work its way into your family's routine.
When your children become more curious about the effects of toothbrushing, you can begin to explain its importance. Provide them with a step-by-step breakdown of what you're doing while brushing your own teeth, emphasizing the risks of cavities, tooth decay and stinky breath!
Stick to a routine, and make toothbrushing a twice-daily family ritual.
Tip#2: Choose Your Weapons Wisely
You don't bring a knife to a gunfight, and you don't bring a boring, plain toothbrush to a pterodactyl bathroom meet-up. You'll need the right tools in place to really wow the crowd.
There are a large variety of toothbrushes available on the market, like vibrating toothbrushes, toothbrushes with blinking lights, and toothbrushes adorned with your children's favourite cartoon characters.
Do some research and find the nearest drugstore with a wide selection of children's toothbrushes and kinds of toothpaste, then let your children choose their own toothbrush and toothpaste!
It could be an excellent opportunity to let them go wild, and pick a few different types of toothbrushes and toothpaste flavours. They'll be excited to go home and have a toothpaste taste test!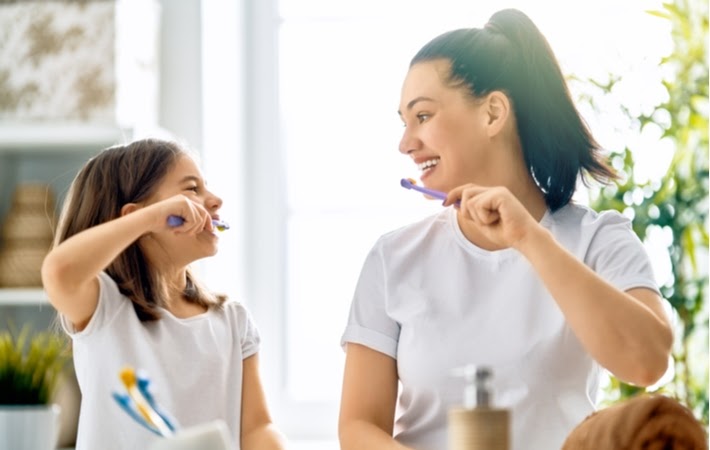 Tip#3: Have Some Fun
Getting your kids into the habit of brushing their teeth is the first step towards healthy oral hygiene, and every kid loves to have fun, so why not turn their daily toothbrushing ritual into a game for the whole family?
You could start by having your children be copycats; model your healthy habits and have them mimic your movements.
Once you are in a routine of brushing your teeth together morning and night, feel free to add a little flair to make sure everyone is brushing for the correct length of time. There are brushes with blinking timer lights, or ones that play sounds after two minutes of brushing.
You could also have a contest to see who can brush for two minutes of the family's favourite song; just know that dancing and toothbrush microphones may end up in the mix!
Remember to have them make big smiles, or goofy tooth faces in the mirror for Gramma so that they can show off their stellar toothbrushing skills.
Tip#4: Positive Reinforcement
Compliments matter to our youngest family members, so tell them you've noticed how hard they're working to keep their teeth clean. Let them hear you bragging about their toothbrushing skills to others.
This kind of positive reinforcement provides kids with the stamina they need to keep up the good work! This may be a great time to create some goals and set up a reward system. You could look at designing a reward chart with prizes for brushing twice a day.
You may be tempted to nag about messy sinks and toothbrushes on the counter, but remember, at this stage, it's more important that they're brushing their teeth themselves. Cheer them on, and don't worry about your bathroom for now.
It's essential to keep things light and positive. Avoid threatening your children with a visit to the dentist if they have difficulties adjusting to this new skill. You'll want to ensure that your kids don't end up with a negative attitude towards dental hygiene.
Follow your child's lead, and don't be afraid to try different things. They may not like a particular flavour of toothpaste, so let them taste a wide variety until they find the right one.
If brushing twice a day doesn't work, you could try just brushing in the evenings for a short while. Morning and night is the ideal brushing schedule, but nighttime is the most important.
Tip#5: Team Up With Your Dentist
Make sure your kids get regular check-ups starting from an early age. Model excellent behaviour by getting yourself checked out too! Once they've visited a few times, they'll become used to the routine of a standard pediatric dental appointment.
You'll want to mention your family's great dental hygiene habits to your dentist. Your children will love getting encouragement, praise and tips from a professional.
Contact Markham Dental Smiles if you have any questions about your children's dental hygiene, or if you'd like a few more tips on how to keep their smiles bright and those toothbrushes a-brusha-brusha-brushing!