Tea is one of the most popular drinks in the world, and people from all different cultures and countries enjoy it in different ways. With 1000s of different tea variations, it can be hard to determine if tea is good for your oral health.
This question has no simple answer because drinking tea can positively and negatively affect your teeth and oral health—although, when consumed appropriately, tea can have plenty of benefits.
Visiting your dentist for regular checkups and asking questions about how to support your oral health can help you determine which foods and beverages are appropriate for your teeth, and how to consume them in a healthy way.
Can Tea Be Good for Your Teeth?
Not all teas will positively impact your oral health, but some, like green tea, can be beneficial. Here are a few benefits green tea has on your teeth.
Improved Gum Health
Many studies have been conducted on the potential health benefits that green tea can have on our oral health. One notable discovery was green tea's benefit in improving gum health and preventing periodontal disease.
Green tea is naturally infused with antioxidants, making it a helpful anti-inflammatory treatment. It can also help prevent bleeding and may benefit individuals who often experience bleeding after brushing or flossing their teeth.
Reduced Cavities
Drinking tea, green and black tea specifically, may have cavity-fighting benefits to help reduce the risk of tooth decay.
Some scientists have claimed that the components of black tea can be useful in fighting against harmful plaque by helping to reduce acid, which is responsible for eating away at your enamel and jeopardizing the health of your teeth. Green teas also have fluoride, a mineral important for strengthening the tooth's enamel and helping prevent tooth decay.
Fighting Bad Breath
A leading cause of bad breath is bacteria in your mouth, on your tongue, between your teeth, and under your gums. Green tea can help to eliminate some of these bacteria, helping to prevent foul-smelling odours. A government study determined that green tea had many deodorant qualities, effectively reducing odour after consumption.
The Downside Tea Has on Your Teeth
Tea can have many positive benefits for your teeth and oral health, but some drawbacks should be considered. Here are a few ways tea can be an issue for your teeth.
Extrinsic Staining
Tea can be one of the worst beverages for staining your teeth. It has tannins, naturally occurring chemical compounds capable of altering the colour of the teeth it comes in contact with them. The good news is, adding milk to your tea may reduce the staining effects.
Cavities
Green or black tea on its own may not be a responsible agent for causing cavities. However, many people who drink tea add different types of sugar, milk, or creamers. These additives can be responsible for causing cavities to develop.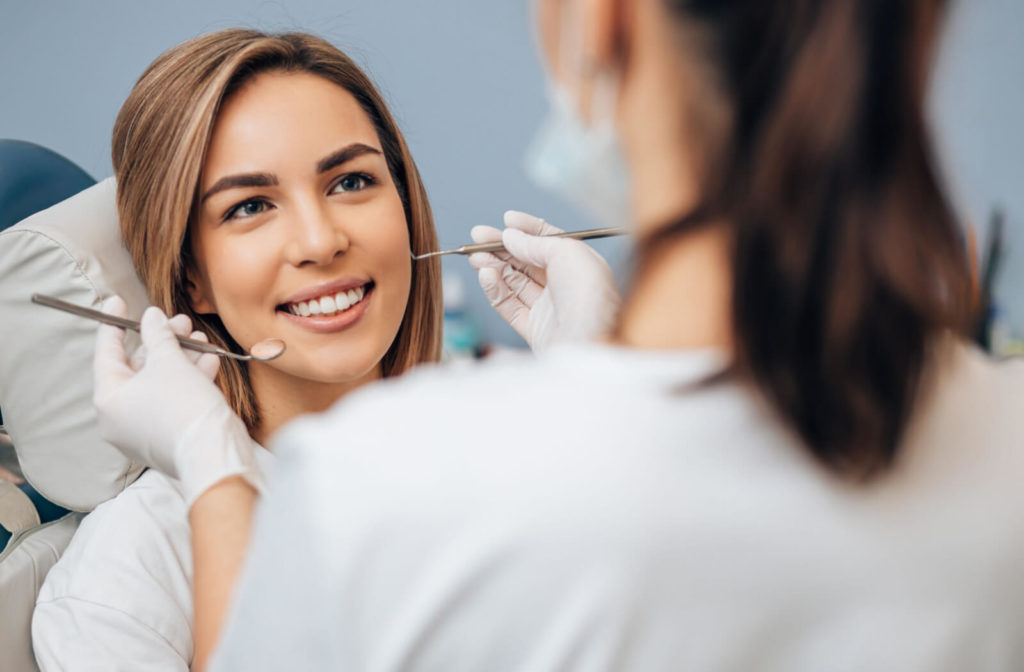 Tips to Avoid Teeth Discolouration
Many of us want to preserve a bright smile, and there are many ways you can do this. Here are some tips to help keep your teeth shiny and white.
Rinse with Water
Teeth discolouration can often be attributed to how long the staining food or drink touches your teeth. For example, if you decide to have a cup of coffee in the morning, you can counterbalance the impact on your teeth by rinsing with water afterwards. A straw can be another great method for reducing contact between your tooth and a potentially staining drink.
Good Oral Hygiene
Regular and thorough brushing and flossing are important for maintaining white teeth and good oral health. The Canadian Dental Association recommends flossing once and brushing your teeth twice daily. Electric toothbrushes are also highly recommended for helping to keep your teeth clean and cavity-free.
Avoid Certain Foods & Drinks
The foods and drinks you consume play a significant role in the health and appearance of your teeth. For example, if you eat and drink lots of foods high in sugar, you are more likely to experience cavities or tooth discolouration. Some foods and drinks to avoid include:
Red wine
Coffee
Tea
Berries & fruits
Energy drinks
Tomato sauces
Candy
Avoid Tobacco
Tobacco consumption and smoking are major causes of tooth discolouration and should be avoided. On top of tooth discolouration, smoking can lead to gum disease, oral cancer, and other issues.
How to Whiten Your Teeth
There are many treatment options available that can help to build confidence and whiten your smile. Speak to your dentist to find out what options they can offer and which might suit your smile best.
At-Home Whitening
At-home whitening kits can help brighten your smile and remove discoloration. Visit your local pharmacy or dentist's office to inquire about purchasing an at-home teeth whitening kit.
In-Office Whitening
If your teeth have experienced staining from tea or one of the other causes we have listed, consider booking an appointment with your dentists for professional teeth whitening treatments that help to remove the deepest and darkest stains.
Get Advice from Our Dental Professionals
While tea can affect your teeth in a variety of ways, consuming it in moderation and keeping up with healthy oral care habits is a great way to enjoy the beverage while caring for your teeth.
If you're concerned about staining or cavities, or simply want to learn more about how your teeth can be affected by what you eat and drink, reach out to our team at Markham Dental Smiles. We're happy to answer your questions and help you work towards your smile goals in our warm and welcoming environment!