When it comes to maintaining your oral health, one of the most important aspects is to practice good oral hygiene. It isn't just about the colour of your teeth or how straight they are—it's about preventing gum or tooth diseases like gingivitis.
This form of early gum disease can progress and evolve into other problems that can eventually lead to further damage or tooth loss, so it's important to do everything you can to prevent it from developing. But if you already show symptoms of gingivitis, is it reversible?
Gingivitis itself is reversible by practicing proper oral hygiene, brushing and flossing twice a day, and avoiding sugary foods for a while. Since gingivitis is an early stage of gum disease, it's considered highly treatable. However, if it progresses into a worse condition, it becomes much more difficult to address and solve.
Practicing good oral hygiene is a key step in keeping your teeth healthy and preventing gingivitis. Visit your dentist often for regular exams and cleaning to keep your teeth and gums healthy.
What Is Gingivitis?
Gingivitis refers to gum inflammation caused by bacteria in plaque that builds up on your teeth. When this plaque accumulates, it can lead to redness, bleeding, or swelling. It can also cause bad breath and a bad taste in your mouth.
The causes of gingivitis include:
Poor oral hygiene
Unhealthy diet or lifestyle
Certain medications
Genetics
Smoking
Diabetes
However, gingivitis is also a reversible condition. With proper treatment and care, you can reverse gingivitis before it progresses into a further problem. If it is left untreated or unrecognized, it can lead to a more serious form of gum disease called periodontitis. This form of gum disease can lead to tooth loss and infection, and may even begin to affect the underlying bone structure in your jaw.
How to Treat Gingivitis at Home
There are many ways you can begin to treat gingivitis before it develops into something worse. The first place to start is simply to improve your oral hygiene. By brushing your teeth twice a day using fluoride toothpaste and flossing once a day, you can take the first step toward preventing or treating gingivitis. It may also help to use an antibacterial mouthwash to kill bacteria in your mouth.
If your case is more severe, you should visit a dentist. They can perform a professional cleaning and address plaque buildup. They can also prescribe antibiotics if necessary to kill harmful bacteria in your mouth.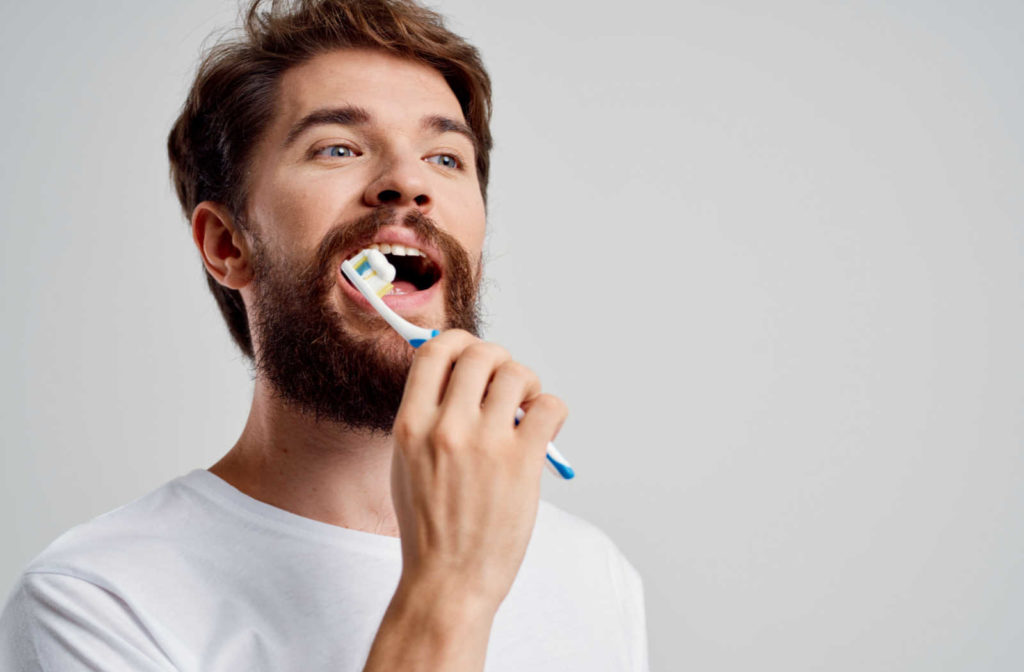 Tips for Maintaining Proper Oral Health
By maintaining proper oral health, you can reduce the likelihood of a related condition developing and avoid the discomfort gum disease can cause.
It may help to:
Brush your teeth twice a day for 2 minutes at a time with fluoride toothpaste. Make sure you hit all your teeth evenly to have a proper all-around clean smile.
Floss once a day. This helps dislodge food particles that may get stuck between your teeth and clean between them.
Use an antibacterial mouthwash. This can help kill bacteria in your mouth and help with cases of bad breath.
Live a healthy lifestyle. A diet rich in fruits, vegetables, and whole grains is a great place to start. It helps to avoid sugary foods or drinks as these can lead to tooth decay. Avoiding smoking or excessive drinking can also make a big difference to your oral health.
Visit your dentist regularly. Regular dental checkups can help detect and prevent gum disease, as well as detect other oral conditions before they progress. A dentist can also help with cleaning and give advice for improving your oral health.
When to Seek Professional Help for Your Oral Health
Regular dental checkups are an essential part of maintaining good oral health. They can detect and prevent oral conditions from developing and help you build a plan to keep your smile as healthy as possible. Practicing good oral hygiene habits at home can also lower your risk of developing gum disease. Brushing your teeth, flossing, and using mouthwash can go a long way!
If you notice any signs of gingivitis, like redness in the gums, bleeding, or bad breath, schedule an appointment with Markham Dental Smiles.