Dental implants can rejuvenate your smile, giving you a functional set of teeth that look and feel like the real thing. But like any surgical procedure, there are certain things to be mindful of during recovery.
It is widely believed that dairy should be avoided after dental implants however, this may be a little exaggerated. It is important to note that dairy is not considered a restricted food after dental procedures. However, the main reason why you should avoid dairy after a dental implant is because it can increase the risk of infection.
Also, in case of sedation surgery, consuming dairy products like milk can cause nausea and vomiting. They can also exacerbate coughing, which can disrupt the healing process.
Following dental implant surgery, ask your dentist or oral surgeon for aftercare instructions to help heal your implant site.
What Is a Dental Implant?
So, what exactly is a dental implant? Dental implants are a permanent solution for missing teeth. They consist of a small titanium post, which is surgically placed into the jawbone to replace the natural root of a tooth. Once the implant post has been placed, it fuses with the bone. This process typically takes several months to complete.
The next step in the process involves placing a small connector called an abutment on the implant post. This connector is the foundation for the replacement tooth, which can be a crown, bridge, or denture. The replacement tooth is custom-made to match your natural teeth' size, shape, and colour.
One of the primary benefits of dental implants is that they provide permanent tooth replacement that looks and feels like natural teeth. Unlike dentures, which can slip, slide, or even fall out of your mouth, dental implants are fused to the jawbone, providing a stable, secure foundation for the replacement tooth.
Consequences of Consuming Dairy After Surgery
Depending on how complicated your dental implant surgery is, you may or may not need sedation. In case your surgery requires sedation, milk-based products could increase gastric secretions, contributing to nausea and vomiting. This can slow down your recovery process by disrupting the body's natural healing systems.
Full-fat dairy products can also exacerbate respiratory issues, leading to coughing and lung secretions. Violent actions in the mouth—like coughing—should be avoided as much as possible, as they can potentially damage the implant site or cause complications.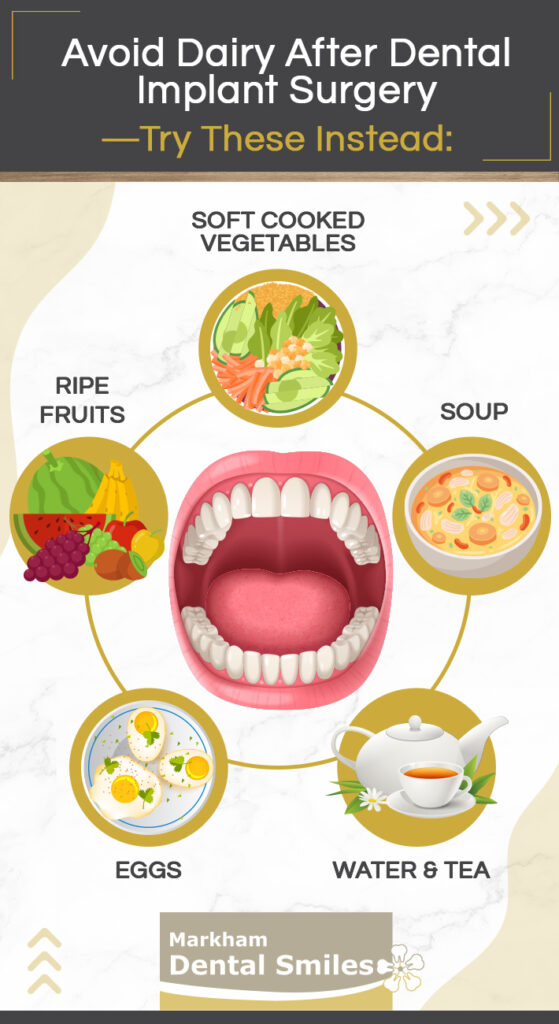 What to Eat & Drink After Dental Implant Surgery?
Fortunately, you can enjoy plenty of soft food after your dental implant surgery. Some great options include soft-cooked vegetables, ripe fruits, soups, and eggs. These foods are easy to chew and won't put unnecessary stress on your mouth or newly implanted teeth.
1. Soft Cooked Vegetables
Soft, cooked vegetables like squash, broccoli, and carrots are rich in essential vitamins and minerals, which help boost your immune system and promote healing. Make sure to steam or cook your vegetables until they're easy to chew and swallow.
2. Ripe Fruits
Fruits like bananas, avocados, and ripe peaches are excellent choices after dental implant surgery. They're easy to digest and contain nutrients like potassium and vitamin C, crucial for strengthening your immune system and aiding in healing.
3. Soups
Warm, comforting soups are a great option for those who prefer a liquid-based diet after dental implant surgery. Chicken or vegetable broth-based soups with soft-cooked vegetables and grains are an excellent source of nutrients and protein while also being gentle on your implant sites.
4. Eggs
Eggs are an excellent source of protein and a great option for those following a soft-food diet after dental implant surgery. Soft scrambled or boiled eggs, chopped or mashed, can be flavoured with a little salt and pepper for comfort and taste.
5. Soft Grains & Starches
Following your dental implant surgery, it's important to incorporate grains and starches into your diet. Options like mashed potatoes, pasta, and soft bread are easy to digest and offer nutrients like carbohydrates that your body requires for energy.
6. Drinks
Water and tea are the best drink options for hydration. It's essential to avoid sugary and acidic drinks that can irritate your implant sites. You can also try protein shakes and smoothies that supplement your food intake with protein, vitamins, and minerals.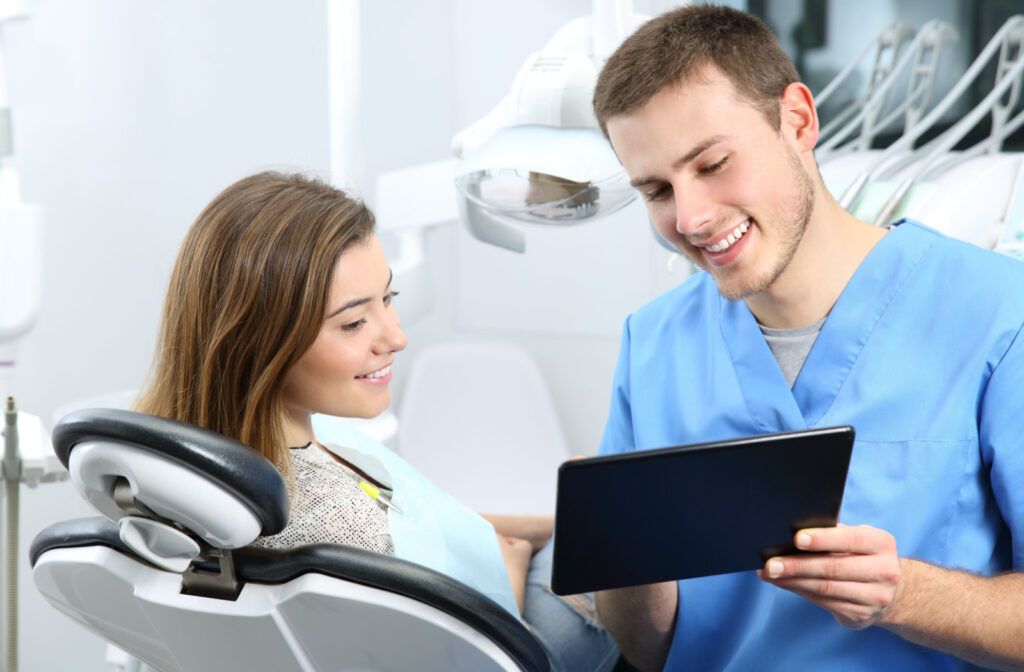 Addressing Your After-Surgery Needs
While dairy is an excellent source of nutrients, it's best to avoid it immediately after dental implant surgery. Instead, focus on nutrient-dense soft foods that are easier for you to chew and digest.
And most importantly, be sure to follow your dentist and oral surgeon's aftercare instructions carefully. The more mindful you are during the recovery process, the faster you'll be able to enjoy a beautiful smile. Book an appointment with Markham Dental Smiles today to learn more about how dental implants can transform your smile. Our team can guide you through the dental implant process and provide you with the aftercare information you need for a healthy mouth and smile.