Smiling with confidence is something we all want. But sometimes a chipped tooth or stained teeth makes that challenging. Veneers are a dental solution that gives you back a full smile.
Dental veneers can treat many different cosmetic issues. Let's explore what veneers are and what to expect from them. And what the pros and cons are compared to teeth whitening and other cosmetic treatments.
Remember that maintaining a healthy smile also requires regular dental exams and cleanings. Schedule your next appointment at Marham Dental Smiles in Unionville to keep your teeth healthy and your smile bright.
Understanding Dental Veneers
Dental veneers are essentially thin covers that go over the front of your teeth. These shells provide a new esthetic that covers tooth imperfections. Veneers are considered permanent, as they cannot be removed after application.
You can get a single veneer to cover 1 tooth, but people commonly get a set of veneers over the front 8 or 10 teeth to create a more symmetrical look and feel.
Veneers are made of porcelain or composite resin and can be coloured to match your other teeth or any shade you desire. Veneers can improve the appearance of dental damage, including:
Stains & Discoloration
Chips & Scratches
Decay
Crookedness & Pointed Teeth
Smaller-than-average Teeth
Tooth Gaps
Types of Veneers
Veneers are made of synthetic material designed to simulate your tooth enamel. They are generally divided into 2 categories: porcelain and composite resin. Each type has its benefits and drawbacks, so discuss with your dentist before making a permanent decision.
Composite Resin Veneers
This type of veneer is applied in layers during your treatment, to the enamel of your tooth. Composite resin veneers may require no enamel at all and can be completed in a single visit.
Composite resin veneer characteristics include:
Less expensive than porcelain veneers
Completed in 1 appointment
Last about 5-7 years
May stain over time
More likely to chip
Easier to fix
Porcelain Veneers
Porcelain veneers are more permanent and require enamel removal to be properly fitted. Because of this, it will usually require 2 visits to receive porcelain veneers. But porcelain is stronger than resin.
Porcelain veneer characteristics include:
More expensive than composite resin veneers
Completed in 2-3 appointments
Can last up to 20 years
Will not stain
Less likely to chip
More difficult to fix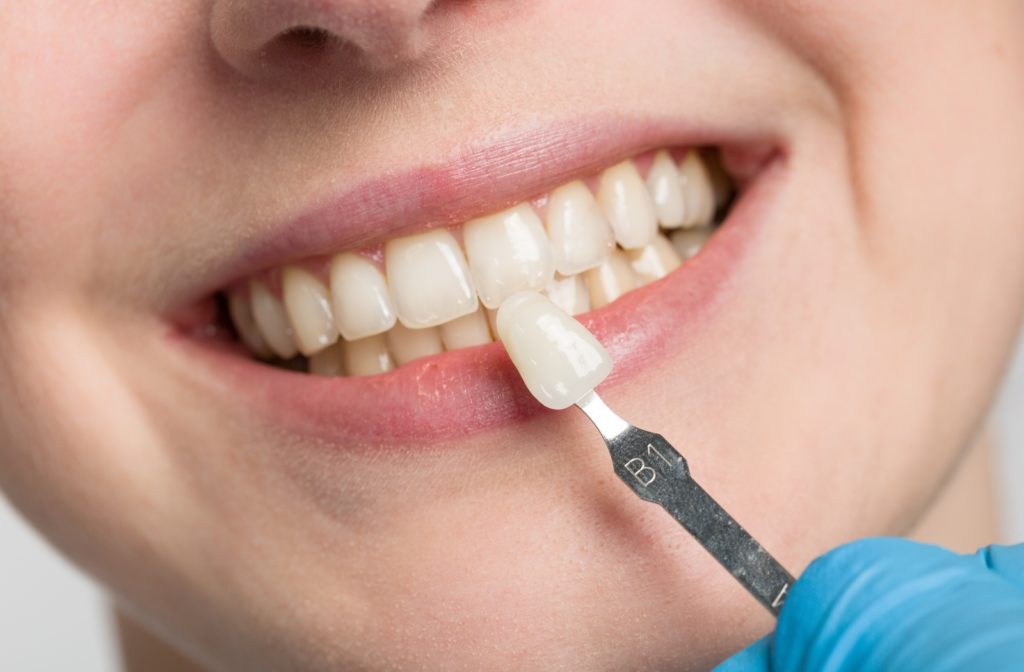 What to Expect When You Get Veneers
Veneer application is a very safe practice that has been used in dentistry for nearly 100 years. The exact procedure depends on the type of veneer you choose.
Before the treatment begins we will take detailed photographs and impressions of your teeth to make sure your veneers replicate your natural smile. With both porcelain and composite resin veneers, you can expect our dentists at Markham Dental Smiles to guide you through the whole process and make sure you're satisfied.
Getting Composite Resin Veneers
Composite veneers can sometimes be completed in one session at our practice. The composite resin that is used can colour match your teeth or be another shade of your choosing. The application process goes as follows:
The tooth enamel may be etched to provide a better adhesive surface. A bonding chemical is then placed on the front of your tooth.
Composite resin layers are applied one after another until the desired thickness is obtained. Each layer is hardened after application with a specialized light.
The veneer is shaped and polished to fit perfectly to your tooth and provides a natural-looking finish.
Getting Porcelain Veneers
Porcelain veneers take a little more time to complete but are more permanent and durable. And the material used in porcelain veneers is virtually stain-proof. Our dentist will apply a porcelain veneer in the following way:
During your first visit, our dentist will remove a thin layer of enamel from the front of your tooth. This allows space for the porcelain veneer to fit.
Your teeth are placed in a mould. This will be used to custom-make your permanent veneers.
A temporary veneer will be placed to protect your teeth until the porcelain veneer is ready.
On your return visit, the temporary veneer is removed and a bonding chemical is applied to the tooth.
The porcelain veneer is glued on and polished and you have a natural-looking tooth.
The Benefits of Veneers
There are alternate solutions for repairing damaged teeth. And teeth whitening can accomplish similar aesthetics to getting dental veneers. But people choose veneers for a number of reasons:
You can fix multiple dental issues with 1 treatment
You can easily whiten your smile and porcelain veneers don't stain
You can replace lost or damaged enamel
A relatively short installation process
You can replace damaged or lost enamel
Veneers can last up to 20 years
Reasons to Avoid Veneers
Veneers are a practical way to brighten your smile and refinish teeth that have been damaged. But not everybody is an ideal patient for this treatment. Some reasons to reconsider getting veneers include:
A tooth has very little enamel and the veneer will not bond correctly
Too much of a tooth is missing (consider a dental crown instead)
A tooth has major decay or gum disease, as this must be treated first
You grind or clench your teeth habitually, as this will quickly damage the veneers
Getting Back Your Smile
Veneers are a great way to fix teeth that have been stained, fractured, or severely scratched. Changing the colour and shape of your teeth can give you the smile you desire. Veneers can last more than a decade and are almost always completed within 2 dental visits.
Keeping your new teeth healthy and beautiful requires regular dental exams and cleanings. If it's time for you to get back a shiny smile, you can schedule an appointment with our team at Markham Dental Smiles to discuss veneers for your teeth.