Updated January 16, 2020
According to the Canadian Dental Association, 16% of all Canadians have underlying dental concerns needing immediate attention. A portion of these patients are diagnosed with periodontitis (gum disease), congenitally missing teeth (hypodontia), or trauma-induced injuries.
By avoiding dental treatment, these patients are exposed to supplementary dental concerns.
These can include:
Shifting Teeth (Remaining Teeth Shift Inwards To Fill Gap)

Bone Loss (Bone Compensates For Missing Tooth Leading To Long-Term Degeneration)

General Wear and Tear From Added Pressure On Remaining Teeth

Change In Bite (Alterations In How Teeth Come Together)

Change In Structure of Jaw (Facial Changes)
Reduced Chewing Efficiency
To eliminate these concerns, a patient is asked to consider personalized treatments.
These treatments include:
Let's analyze each treatment in detail.
Bridges
This treatment is reserved for patients missing 1-2 missing teeth. It's not an ideal solution for replacing multiple teeth in one area (i.e. arch). Bridges are structured and compact but remain an expensive choice.
What does the treatment comprise of?
It includes the use of an artificial "bridge" to make room for new teeth. A specialist will prepare neighboring teeth, analyze the space, and insert a bridge. It's important to note this treatment comes with its cons. For example, a bridge will lead to enhanced exposure to bacteria. This can result in unwelcome cavities and periodontitis regardless of the preventative measures used to counteract such concerns. The success rate is highly dependent upon the general health of a patient's surrounding teeth. A bridge will last long if those teeth remain healthy.
Dentures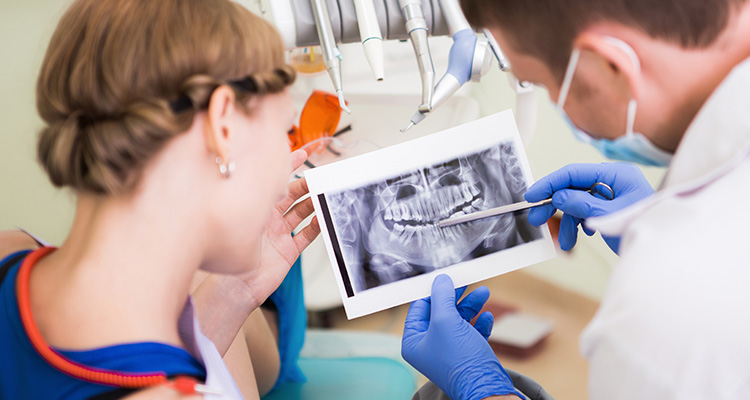 This treatment is used to replace one or multiple missing teeth.
Dentures provided a cost-efficient solution while remaining easy to remove. This advantage ensures a patient's oral hygiene isn't compromised at any stage. However, this treatment doesn't prevent long-term bone loss. Patients also cite an underlying concern with how challenging dentures are to wear. For example, food impaction is often mentioned as a drawback.
Implants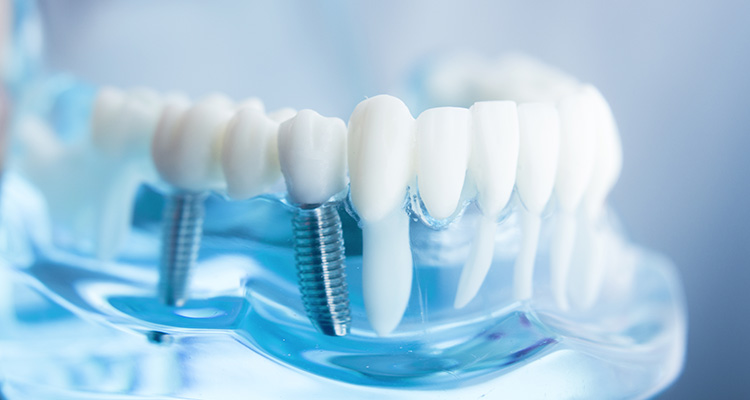 With 50 years of dental history, dental implants are well regarded as a top-tier, revolutionary answer to replacing one or multiple missing teeth.
Research has provided momentous growth in how implants are produced, managed, and inserted. The design(s) and materials have been optimized to meet contemporary dental standards while enhancing overall effectiveness.
What does this treatment comprise of?
Dental implants include the use of titanium or zirconium/titanium (i.e. screw-like material). This material is long lasting, strong and rust-resistant. A dental professional assesses a patient's bone structure (jaw) before prepping for a surgical placement of this material. It's positioned inside the jawbone similar to a tooth's root. With the aid of osteointegration (bone growth), the implant anchors itself into position. This implant is used as the foundation for supporting a crown, bridge, or full arch denture.
How much does it cost?
It's important to note each case is dissimilar and has distinct variables at play.
In general, the average implant will cost far more than a bridge or denture due to its advantages in longevity and quality. Implants are regarded as being the ultimate treatment for replacing missing teeth. These teeth do not rely on surrounding teeth or cause bone loss. While biting, the implants feel natural, avoid cavities, and prevent discomfort. Implants ensure surrounding teeth remain untouched and can age naturally.
According to contemporary research, dental implants sit at a resounding 98+% success rate.
In what situation are dental implants not recommended?
Untreated Periodontitis

Immunosuppression (Systemic Diseases Treatments)

Radiation Therapy Near Jawbone

Intravenous Bisphosphonate Therapy
Reduced Oral Hygiene From Inefficient Dexterity
In these situations, a dental professional will steer away from the use of dental implants.
In addition, the treatment's success rate can lower with the following pre-existing concerns.
These include:
Type 1 or Type 2 Diabetes

History of Smoking

Traumatic Bite

Chronic Infections (i.e. Caused By Root Canal Teeth)
Please note, the points mentioned above are not reasons for immediate rejection. Instead, they're cited as potential concerns, which can lead to inefficient results.
With a dental implant, the timeline is personalized based on the patient's case. In certain situations, a patient's tooth can be replaced immediately. However, many patients require multiple months after their tooth is extracted. The patient is diagnosed post-extraction to spot an infection. If the infection is present, the implant cannot be positioned until it's healed. In most cases, the dental professional will recommend a period of six months post-extraction. This guarantees the bone and/or gum will heal and the surrounding area can be remodeled correctly.
If the dental professional feels the extraction has caused bone loss (often seen with previous extractions), then a bone graft is needed. This bone graft ensures the implant can be positioned properly.
It's important to remember; a dental implant is a lifelong investment. With modern methods, the implant will last forever without diminishing in quality. Patients are recommended to plan and maintain in detail to ensure that's the case. A competent dental professional will provide a resounding solution to help with post-treatment care. This plan helps prevent peri-implantitis and other problems related to an implant. As mentioned above, factors such as continuous smoking or poor oral hygiene can reduce an implant's lifespan. It's highly recommended to avoid these to preserve the implant's integrity.
Regardless of the route being taken, patients are asked to seek professional guidance and weigh each option before deciding.