Achieving a vibrant, confident smile is possible with regular dental cleanings and other treatments, such as teeth whitening. At-home teeth whitening treatments can help gradually whiten teeth, while in-office treatments can also help brighten your smile with professional results and support from your dentist.
It's natural to want the results of your treatments to last, but it's important to know that the longevity of your teeth whitening results can depend on the whitening method, your lifestyle habits, and your general oral hygiene habits.
Tooth Discolouration & Staining
Tooth discolouration and stains are common problems. There are several different types of tooth stains resulting from diet, genetics, and other factors. When you visit us, we can help determine what kind of discolouration you have, why it's happening, and how to whiten your smile and prevent future stains from appearing.
Extrinsic Stains vs. Intrinsic Stains
Discoloration that occurs on the surface of teeth is known as an extrinsic stain, and discolouration deeper within the tooth is referred to as an intrinsic stain.
Extrinsic stains are often caused by:
Foods and drinks: including coffee, black tea, soda, red wine, starchy foods, sugars, and highly pigmented foods
Tobacco: including smoking and chewing tobacco
Some people try over-the-counter whitening products for surface stains, but strips and gels may not offer the level of whitening you're aiming for. A dentist can assess the level of staining you're experiencing and offer teeth whitening solutions based on your goals and oral health.
Intrinsic stains can result from:
Medical conditions and medications: some illnesses can thin your enamel and make dentin—the inner, yellow-tinged core of teeth—more visible.
Aging: age-related staining is often a result of enamel wearing away and exposing dentin, and can be caused by both intrinsic and extrinsic factors.
Genetics: the appearance and structure of your teeth can be affected by genetics.
Trauma: an accident or impact to the mouth can cause discolouration.
If you're unsure what type of discolouration your teeth fall under, our team at Markham Dental Smiles can help determine the root cause of your discolouration, address concerns related to your dental hygiene, and provide whitening treatments to help you reach your smile goals.
Different Types of Teeth Whitening
Many people assume that whitening treatments at the dentist's office include more time in the dentist's chair, but there is flexibility for those who prefer different approaches.
At-Home Whitening
If you want to whiten at home, you don't have to rely on drugstore products as the only option. At Markham Dental Smiles, our team can assess your teeth and provide a personalized in-home whitening treatment to add to your dental care routine.
After taking a dental impression, we'll create plastic trays to fit over your teeth. Our team will give you a special whitening agent and instructions to follow for how long to wear your individualized whitening trays.
You can experience gradual whitening with this method, and it can take up to 2 weeks to reach your ideal results. With professional support and the care of our dental team, we can help reduce the risk of tooth sensitivity throughout the treatment process.
In-Office Treatment
An in-office whitening session can be ideal if you want dramatic results from fewer treatments. During your appointment, our team will clean the surfaces of your teeth to help remove surface discolouration and target deep, established stains.
During the process, we can protect your mouth's soft tissues and isolate your teeth to keep the bleaching gel from irritating your gums or tongue. We use a whitening system that does not require light activation. It involves mixing hydrogen peroxide and potassium nitrate in a certain proportion so as to activate the mixture. Hydrogen peroxide acts as the brightening agent while potassium nitrate helps strengthen the enamel and reduce sensitivity.
Many patients achieve brighter smiles immediately after their appointment, with most patients experiencing a smile up to 8 shades whiter in only a single session.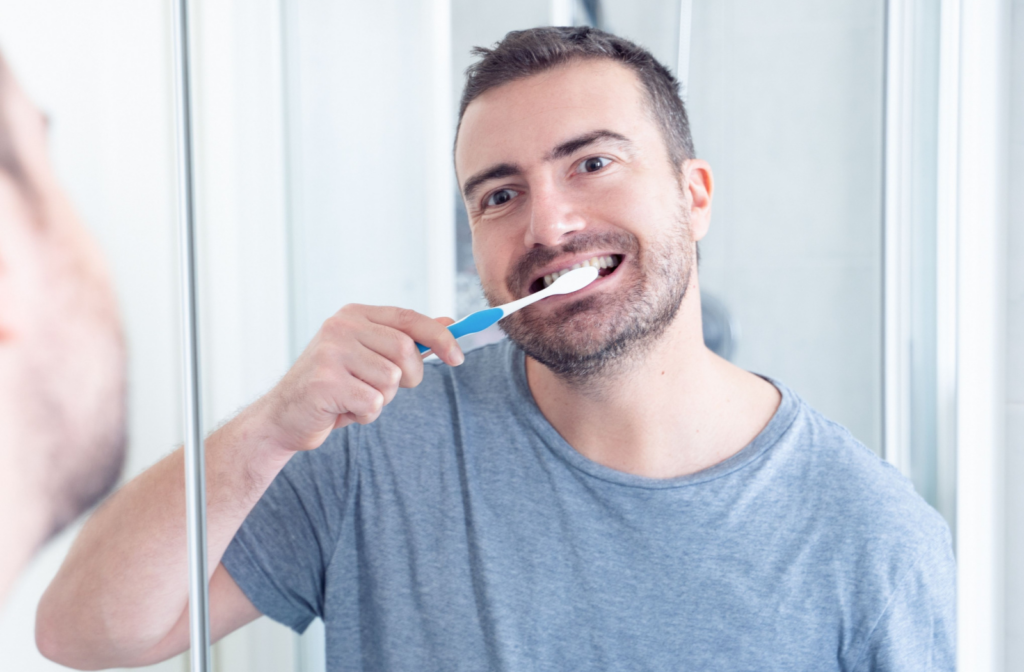 How Can You Help Your Teeth Whitening Results Last?
Once your teeth are bright and vibrant, the goal is to help keep them that way. While it's normal to need touch-ups occasionally, you can take steps to prevent stains from returning by making some intentional shifts in your oral health.
Practice Positive Oral Hygiene
There's nothing like proper dental care to help preserve a healthy, glowing smile. Brushing at least twice a day, flossing with dental floss, a Waterpik, or an interdental brush daily, and using whitening toothpaste or mouthwash can help reduce tooth stains and eliminate bacteria that cause plaque and tartar.
Getting regular dental exams and cleanings based on your dentist's recommendations can also help you stay on top of any oral health problems that can affect the look and feel of your teeth.
Change How You Eat Pigmented Foods
Whether you need an afternoon coffee to refresh your workday or a lunch full of red tomato sauce, brushing and flossing immediately after consuming pigmented foods can help prevent stains from settling on your teeth.
If performing a full dental care routine isn't possible, drinking water or swishing with water or mouthwash after eating pigmented foods can help prevent stains too.
Teeth Whitening at Markham Dental Smiles
Tooth discolouration is common even among those with near-perfect oral health care habits. Some degree of staining is normal, and whether you drink lots of tea throughout the day, enjoy a glass of red wine, or have problems within a tooth that can cause discolouration, there are whitening options available to help your teeth shine.
The causes of tooth stains can be unique, so your whitening treatment needs to be crafted to suit your individual oral health. Whether you want to add whitening to your at-home routine or want an in-office treatment with brilliant results, you can request an appointment at Markham Dental Smiles to begin your journey to a bright smile.