Dentures can help you eat your favourite foods, speak clearly, and regain your smile. While dentures are artificial, they need the same cleaning and maintenance as natural teeth. Taking care of your dentures can prevent future damage and help them last.
If you're looking for denture cleaning tips, you've come to the right place. Continue reading to learn more about 8 easy tips to help clean your dentures.
Tips For Keeping Dentures Sparkling Clean
Use Baking Soda or White Vinegar
You can use several home ingredients to help keep your dentures clean. Baking soda and white vinegar can help remove stains and debris. You can use baking soda and water as a gentle toothpaste to remove stains when brushing your dentures.
When soaking your dentures overnight, the Canadian Dental Association states you can use a mixture of warm water and vinegar to loosen plaque buildup. Use a mixture of half water and half vinegar.
If you're unsure about trying other cleaning methods, speak with your dentist. They can give their opinion on the best practices for denture cleaning.
Use Formulated Cleaning Tablets
Overnight soaking gives your dentures a chance to be cleaned outside of daily brushing and rinsing. There are several options for soaking your dentures, and a common choice is a dental cleanser.
These dental cleansers can come in the shape of tablets that you drop into a glass of water, creating a mild dental-soaking solution.
Make sure to closely follow your cleaning solution's instructions to limit the risk of complications with your dentures. Rinse your dentures before placing them in your mouth to ensure no solution remains.
If you're unsure of the best way to soak your dentures overnight, speak with your dentist for their recommendation.
Soak Your Dentures in a Saltwater Solution
A saltwater solution can be a helpful alternative for soaking your dentures. Mix a small amount of salt into a glass of warm water before you soak your dentures.
The saltwater solution can help loosen built-up plaque and tartar, making future cleaning easier. Always rinse your dentures off with water to remove any leftover solution before putting them back into your mouth.
Clean Your Dentures After Consuming Foods That Stain
Red wine can pair well with your dinner, but your dentures may disagree. Both your natural teeth and dentures can stain from everyday food and drinks. Coffee and tea are among the most common staining culprits.
If you smoke, your dentures can stain from this as well. You can remove staining with regular brushing, but some stains may be more stubborn. Cleaning your dentures after consuming foods that stain can help keep them clean.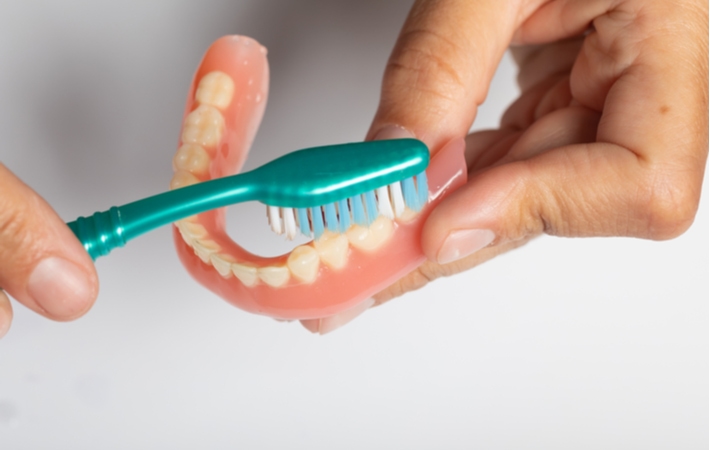 Always Use a Soft-Bristle Toothbrush
A soft-bristled toothbrush is a necessity when it comes to cleaning your dentures. Dentures are similar to natural teeth, but they're fragile. You don't want to ruin the integrity of your dentures, causing them to potentially break.
A soft-bristled toothbrush will help you clean your dentures risk-free. Abrasive materials like stiff-bristled toothbrushes can cause damage to your dentures. Avoid other abrasives, such as strong dental cleansers and harsh toothpaste.
Never Wear Dentures to Bed
Unless instructed by your dentist, don't wear your dentures to bed. Although you're missing natural teeth, your gums still need to stay healthy. Removing your dentures at night gives your gum tissue time to rest and clean itself with stimulation from your tongue and saliva.
Taking your dentures out at night lets you soak them to remove tartar and debris. Remember that your dentures aren't the only thing you need to clean. Your oral health includes your gums, so carefully brush them with a soft-bristled toothbrush.
Store Dentures in Warm Water
Your dentures need to stay moist to keep their shape, and soaking helps keep them clean and free of debris. When storing your dentures, only use warm or cool water ensuring the dentures keep their shape.
Hot water can ruin the materials of certain types of dentures and potentially warp your dentures, making them ineffective because they no longer fit your mouth. Improperly fitting dentures can cause irritation, sores, and possible infection.
Have Your Dentures Professionally Cleaned
Having dentures doesn't mean you don't need to see your dentist anymore. With regular cleanings and examinations, your dentist can assess how your dentures and oral health is doing.
Your dentist can check the fit of your dentures to prevent potential slippage or discomfort and check the inside of your mouth for any problems. If you're wondering how often you need an appointment, speak with your dentist.
Make Regular Appointments for Dental Checkups
Regular cleaning, soaking, and maintenance can keep your dentures clean, but problems can develop over time. Regular dental appointments can help protect your oral health. Your dentist can identify any present issues and give you advice for caring for your dentures. If you have any questions, concerns, or need an examination, visit your local dentist today.