There's nothing quite like that first cup of coffee in the morning. Coffee has been so ingrained into our culture that it's hard to imagine a time when this delectable drink wasn't a part of our daily routines. In fact, it's probably safe to say that you might be reading this right now with a warm cup in your hand!
But is there a chance that your get-up-and-go beverage of choice is increasing your risk of oral health problems? Even though we all love a good ol' cup of joe, it's also important to understand the issues it may contribute to if you're not careful.
If you're concerned about how your coffee consumption may affect your oral health, request an appointment with the team at Markham Dental Smiles. We'll be happy to examine your dental needs and determine suitable strategies for keeping your smile pearly white.
Request yours today!
"How Do You Like It?"
Like any other food or drink you consume, coffee can increase the risk of plaque buildup on the surface of your teeth. Black coffee is acidic and can erode your tooth's protective enamel layer, which is needed to help protect your teeth from bacteria that may cause tooth decay.
However, in a 2009 study by The Journal of Conservative Dentistry, some researchers discovered that the natural anti-bacterial properties found in black coffee could help lower the risk of developing a cavity.
Still, the risk of accumulating plaque from coffee ultimately depends on how you like it. For example, adding lots of milk, cream, and sugar into your coffee could eliminate any oral health benefits coffee may have on your teeth and directly contribute to plaque buildup.
We recommend not to sip your coffee throughout the day, especially if you put cream and sugar in it because it can lead to cavities. To minimize the risk of experiencing oral health problems from drinking coffee, try having your coffee black.
The Progression of Tooth Decay & Gum Disease
So how does plaque lead to cavities and gum disease? The process is quite easy to explain:
When you drink or eat food, bacteria accumulate on your teeth, creating plaque. Plaque is a clear, sticky substance you can clean off by brushing or flossing.
However, if plaque isn't cleaned away with brushing, it can harden into tartar. The bacteria in tartar can then eat through the protective layer of enamel on your teeth and reach your dentin over time. When the bacteria deteriorates your tooth's dentin, it causes a cavity.
Cavities can progress over time, and can even reach the centre of your tooth, called the pulp. You may need a root canal to treat the infection when this happens.
Tartar bacteria can deteriorate your gums as well, leading to gum disease. If you develop gum disease, you may experience bleeding or receding gums, bad breath, or even tooth loss.
Is Coffee Worse than Other Drinks?
Technically speaking, coffee isn't any worse for your oral health than most types of drinks you usually consume. The risk of coffee contributing to plaque and tartar buildup generally increases if you typically drink it with sugar, cream, or milk. However, coffee could cause other oral health problems that other drinks might not cause as much.
Coffee can contribute to bad breath. The properties in coffee make it easy to stick on your tongue, and you might need to use a tongue scraper and mouthwash to address the issue properly.
Coffee can also stain your teeth over time, making them appear yellowish. Bacteria in milk, cream, and sugar can also contribute to your tooth's discolouration, so please be aware of how coffee can affect the cosmetic look of your teeth.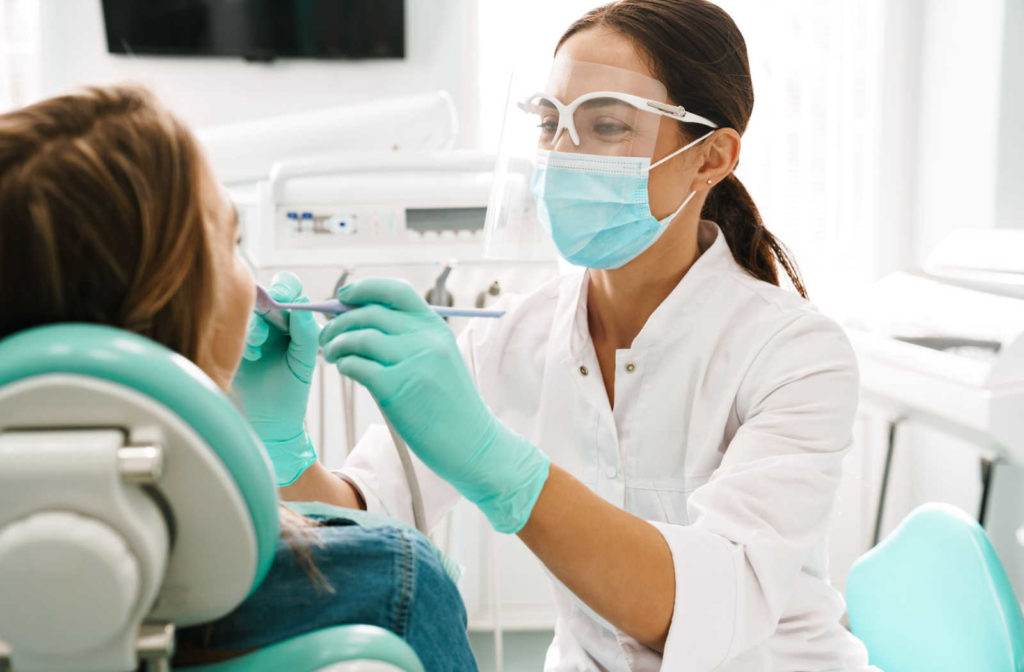 What You Can Do
If you're not planning on reducing how much coffee you drink every day, there are still ways you can preserve your oral health while also enjoying arguably one of the most popular drinks in human history.
Brush Your Teeth Twice a Day
First, you should brush your teeth twice a day and floss once a day to protect your oral health from the effects of coffee. After drinking some coffee, you could also use a tongue scraper or mouthwash to help eliminate the bad breath coffee may cause.
Have Regular Dental Exams & Cleanings
Second, keep up with regular dental exams and cleanings. Once plaque hardens into tartar, only a professional can help clean it away and prevent it from causing tooth decay and gum disease.
During a dental exam, our team will also look for potential issues unrelated to plaque and tartar buildup, like misaligned teeth or oral cancer. From their findings, your dentists can recommend various treatments, techniques, and strategies to help keep your mouth healthy.
Try Out Our Teeth Whitening Services
If you're struggling with tooth stains caused by coffee, we could recommend our teeth whitening services to help restore the natural glow of your smile. We offer at-home and in-office whitening strategies, so be sure to visit us for an appointment to find out which one is most suitable for your needs.
Request Your Appointment Today
Taking care of your oral health can help you enjoy even the little things in life, like enjoying a cup of hot coffee before starting a busy day.If you're worried about how coffee may affect your mouth and want some help managing your smile, please request an appointment with the team at Markham Dental Smiles today!